Missions Sunday June 2014 - Speaker Biography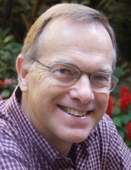 Rev. Dr. Christopher J. H. Wright is the International Ministries Director of Langham Partnership. Originally nothing more than the name of a small street in London, associated with All Souls Church Langham Place, Langham is now the brand name of a worldwide network of ministries working in partnership with churches, seminaries and leaders in the Majority World. The Langham Partnership is fully interdenominational and serves a huge variety of Christian churches and groups around the world.
As International Director Chris represents and promotes the vision and work of Langham around the world. This is accomplished through his international travel and speaking, and through his writing ministry as a Christian scholar and author. He also seeks to shape the spiritual and strategic leadership of the organization. Originally an Ulsterman, Chris is an ordained pastor in the Church of England. He spent five years teaching the Old Testament in India, and thirteen years as Academic Dean and then Principal of All Nations Christian College, in England.
Detailed Biography
Chris was born in Belfast, Northern Ireland, in 1947.  His parents were missionaries in Brazil, but Chris, as the youngest son, was born after they came back at the end of the Second World War.  He grew up in Belfast and was nurtured as an Irish Presbyterian.  He studied classics at Cambridge in the 1960s, and then started his career as a high-school teacher in Grosvenor High School, Belfast.  In the 1970s he studied for his doctorate in Cambridge, England, in the field of Old Testament economic ethics; his book from this work was published as God's People in God's Land.  He was ordained in the Anglican Church of England in 1977 and served as an assistant pastor in the Parish Church of St. Peter & St. Paul, Tonbridge, Kent, England.
In 1983 he moved to India with his wife, Liz, and four children to teach at Union Biblical Seminary (UBS) in Pune for five years where he taught Old Testament courses.  At this time he and Liz were mission partners with Crosslinks, an evangelical Anglican mission agency.  In 1988 he returned to the UK as academic dean at All Nations Christian College, an international training centre for cross cultural mission. He was appointed principal there in September 1993 and remained for eight years.  In September 2001 Chris was appointed to his present role as international director of the Langham Partnership International.
Chris and his wife, Liz, belong to All Souls Church, Langham Place, where Chris enjoys preaching from time to time as a member of the ministry team.  This is also the church, of course, where LPI's founder, John Stott, was Rector Emeritus.
Chris, who enjoys running, birding and watching rugby football, has a passion to bring to life the relevance of the Old Testament to Christian mission and ethics.  He has written several books mostly on that area. He loves preaching and teaching the Bible, which he does now mostly through the Langham Preaching seminars in different parts of the world.  When not traveling around the world, Chris gives about three months of each year to his continuing writing projects.
Chris and Liz live in London and have four adult children and a growing number of grandchildren.