Looking Back at Pontprennau Holiday Club
Last week, Pontprennau held its second annual holiday club. Tim Wilson writes to let you know how it went.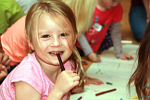 Tim Wilson | 22:21, 3rd August 2014
In the first week of the school holidays, Highfields Pontprennau had its second holiday club. We had a great week, with just under 80 kids attending. Here are some of the things we did.
A typical day at holiday club
Our Holiday Club split up into three sections. Firstly we spent just under an hour in our age groups. In these groups we played games, made craft and had an opportunity to build relationships with the children.
Secondly, we had the "up-the-front" section. James Pope is the master at giving kids a great experience. We had great action songs, leader's forfeits, exciting quizzes, and (most importantly) a story from Jesus' life.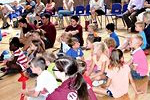 All the talks were really great. We started the week with Jude telling the children how Jesus calmed the storm. Sarah went on to teach how Jesus' provided food for 5,000 people. I then taught the children how Jesus had defeated death for all who trusted him. James rounded off the week by teaching about how Jesus changed the life of Zacchaeus and how he can do it for us too.
Finally, we had half an hour of family time. In this section we invited parents into the club. They had opportunities to win prizes for the children and find out what we'd been doing. It was also a great opportunity for us to build friendships with these families.
Praise Points
There are far too many things to thank God for to list, but here are just a few:
More children than last year (from 54 to 79!)
Children who came last year came back (19 children)
A great team using their gifts in different areas (whether with preschoolers, children or adults).
Church families inviting friends and seeing them come.
More children from Pontprennau than last year (25 compared to only 8 last year)
Parents and children inviting their friends throughout the week.
Relationships built with parents through pre-school and adult ministry.
Lots of families attending on Sunday
So many children hearing the good news of Jesus the Superhero.
We've had a great week! If you wish your children had been involved, don't worry though. You can get involved with Cathays Holiday Club. If you're interested, find more details on this website.