The term card for September to December 2020 is now available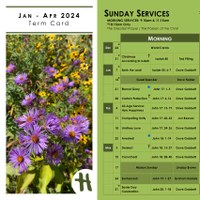 Term Card
The term card provides details of all our services for September to December.  The morning services are following the theme of 'Joseph: Salvation in Technicolour. Studies in Genesis 37-50'. 
On Sunday evenings a range of events and services are planned.
The term card also provides details about Life Group topics and special events.
Download the Term Card using this link:

September_December_2020_Term_Card.pdf — PDF document, 233 KB