One of my usual Christmas rituals I shall miss the most this year will be Carols from King's
Huw Williams | 14:25, Thursday, 22 December 2011
Thus on my walk home yesterday I decided I would brighten the shortest day of the year with a few carols on the iPod, sung in the way it seems only the choir of King's College, Cambridge can. At the pedestrian crossing on Piazza Statuto, I was greeted with the piercing blue and yellow flashing lights of a police car and a vehicle transporter. Two cars – one with a big dent at the front, the other at the back – had been pushed rudely and awkwardly onto the pavement sparkling with the scattered seasonal frost of broken headlights.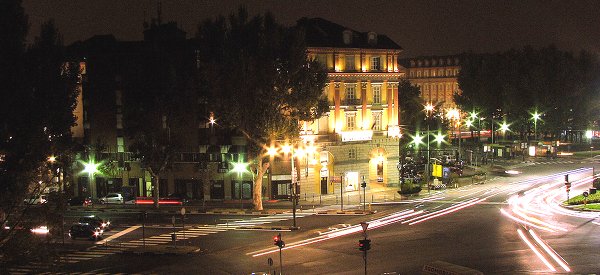 While I waited for the green man (and believe me, you really do want to wait for the green man before crossing these roads), police officers pointed, muttered and sniffed, and made brief exchanges with miserable-looking drivers and passengers, looking cold and smoking.
There were no injuries. It was a bump rather than a smash. Nonetheless it was a depressing, miserable view, particularly against the backdrop of the Christmas lights. These half-dozen people at least had had a bad day.
And all the while the strains blasted in my ears:-
"Glad tidings of comfort and joy, comfort and joy…"
with such musical perfection it was hard to imagine anything more heavenly. It was a strange juxtaposition.
My green man duly appeared and ushered me that little-bit more gratefully across the busy road. And as I did so, I reflected more on the strange juxtapositions of Advent. For centuries Christians have seen the season as one of waiting, of looking backward and looking forward, of recognising the now and the not yet. We need that vision of where we are all heading, don't we? If we don't have our hearts fixed on the Second Advent too, our Christmases – indeed our whole lives – will be filled with such strange juxtapositions of life, unresolved this side of Eden. By the time I reached home, the song had changed:-
"O come, O come Immanuel!"