"We proclaim him, admonishing and teaching everyone with all wisdom, so that we may present everyone perfect in Christ. To this end we labour, struggling with all his energy, which so powerfully works in us." Colossians 1 v 28-29
Nexus is our student small group Bible study, 6.30pm on Tuesdays, once a week, term time!
The evening consists of a meal together, a Bible study in smaller groups (usually looking at the passage from the Sunday morning sermon), a wrap-up talk, and some time to pray and chat together afterwards. All of this takes place at the Dalton Street Centre which is just down the road from the church.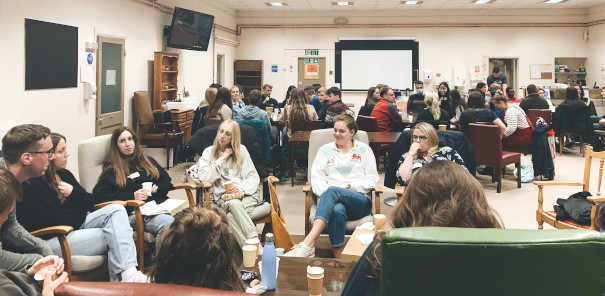 Nexus is a good way to meet up with other students from different campuses and universities. It also provides a great place for you to ask your questions and see how the Bible can be applied directly and clearly to our lives on campus. Many students find the small groups to be a good opportunity to build meaningful relationships with fellow students and with the Nexus leaders.  

Once a term we have 'Nexus Plus', which is a chance for us to stop in the middle of the study series to look at something more topical and situational. This normally takes the form of a seminar where we can discuss how the Bible relevantly speaks into this area of our lives or culture.