Studies from the book of Isaiah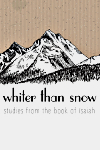 A series of Sunday evening services looking at the book of Isaiah.
In Isaiah 1:18 it is written: 
"Come now, let us settle the matter," says the Lord.
"Though your sins are like scarlet,
they shall be as white as snow;
though they are red as crimson,
they shall be like wool."
All services in this series: