Wisdom and decision making
When
Nov 02, 2021
from

06:30pm

to

09:00pm

Where

Highfields Church Cathays - Monthermer Road, Cardiff CF24 4QW

Contact Name
Student Team
Add event
to calendar

vCal




iCal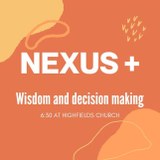 Once a term we have 'Nexus Plus', which is a chance for us to stop in the middle of the study series to look at something more topical and situational.
This normally takes the form of a seminar where we can discuss how the bible relevantly speaks into this area of our lives or culture. There is also the space for fellowship, prayer and praise and discussion time.
We will be meeting in Highfields Church building at 6:30pm for hot dogs before we spend our time thinking about wisdom and Biblical decision making. There will also be a vegan, veggie and dairy free options available.
Would love for you to join us!