With Opportunity for corporate prayer during the day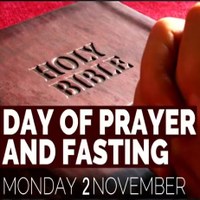 Day of Prayer and Fasting
The church elders have called a Day of Prayer and Fasting on Monday 2nd November. 
They are asking church attendees seek God's face in three areas:
Sorrow for the sins of our day,
A solution for COVID, and
Calming of national and international tensions. 
Church attendees are invited to set aside time on Monday 2nd November to lift up these issues in prayer. 
A noon prayer meeting via Zoom provides an opportunity to join in corporate prayer during the day.