Holiday club for children aged 4 – 10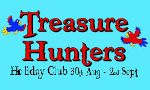 Do you like parrots, peg-legs & eye-patches?
Do you like looking for treasure?
If so Treasure Hunters is just for you.
We'll be finding out that Jesus is the real treasure.
We've games, crafts, competitions, challenges and much more. The week is free and is for children aged 4 - 11.
Sign up here: Holiday club online booking form.  
By signing up you are signing up for the week. 
The club will run every morning 10:00am-12:30pm from 30th August - 2nd September.  On Sunday 4th September there will be a holiday club family service.
What is happening: