John Dart - memories and recollections
Walking with God
Rowland Hughes | 14:42, 20 October 2018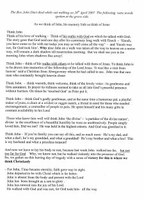 On 28th April 2007, John Dart died suddenly while out walking. Many of the Lord's people remember with gratitude his warm preaching and timely words of wisdom and consolation. Margaret Dart his wife has kindly shared her memories and recollections in an audio interview. 

 Margaret Dart interview regarding John Dart.mp3 — MP3 audio, 34.95 MB (36647808 bytes)
John's father, Redvers Dart, left his home town of Exeter to become the administrator of a Baptist Mission's Hospital in China. There he met Florence George, who was from Birmingham. She was the Matron, and they married in China where they served as missionaries, and were imprisoned during the Second World war.
John Dart, their youngest son, was born on 30th November 1931. In 1957, John married Margaret, and together they served the Lord with fortitude and joy for 50 years.
John, with Margaret's constant inspiration and help, became associated with Wales through his work as lecturer and Vice Principal of Barry Bible College.
After 14 years at Barry, they served for 11 years at Tilehurst Free Church, Reading; then five years at Leominster Baptist Church. Following these years of preparation, they served, with Serving in Mission (UK), as pastors to missionaries on the mission field in various countries such as Nigeria and Ethiopia, for 10 years.
Geraint Fielder spoke at John's graveside and his words were recorded: as we think of John, his memory bids us think of Jesus.